Winter Vegetarian Recipe Of The Day: Authentic Saag Paneer
Come winter and it is the time for indulgence. Well, who can blame anyone? This is the season when the markets are brimming with all sorts of root vegetables, tubers and leafy greens that are robust with natural goodness. No wonder then that in India we eagerly wait for winters to make our favorite seasonal dishes such as a hot bowl of gajar ka halwa cooked with red carrots or bite into ghee-laden mooli ke parathas.
While most vegetables are available to us year around, it is important to keep in mind their seasonality and enjoy them then. This way, you can savor nature's true offerings and also make use of the numerous health benefits they come packed with.
If you are wondering how to go about cooking these seasonal veggies, we have put together the best recipes using winter vegetables. Go on, make the most of the season.
Authentic Saag Paneer
Recipe Servings: 
4
Prep Time: 15 min                     Cook Time: 45 mins                      
Difficulty Level: 
Medium
Ingredients
2 bunches spinach, roughly chopped
3 cloves garlic, minced
1 bunch fenugreek leaves, roughly chopped
1 tomato, diced
1 tablespoon canola oil
2 tbsp Ghee
2 teaspoons garam masala
250gms paneer, cubed
1/2 tsp ground turmeric
1/2 teaspoon cayenne pepper
1/2 cup heavy cream
1 teaspoon cumin seeds
1 onion, thinly sliced
salt to taste
1 teaspoon grated fresh ginger
Method
Bring a large saucepan of water to a boil. Cook spinach and fenugreek in the boiling water until wilted, about 3 minutes. Drain well and transfer to a food processor. Puree until finely chopped.
Heat 1 tbsp oil in a large Kadhai (Vessel) over medium heat. Fry paneer cubes, stirring constantly until browned on all sides, about 5 minutes. Set aside.
Heat 2 tablespoons ghee in the Kadhai (Vessel) and fry the cumin seeds until lightly toasted and aromatic, about 3 minutes.
Add onion; cook and stir until onion begins to soften 4 to 5 minutes. Stir in ginger, garlic, tomato, garam masala, turmeric, and cayenne pepper; cook and stir until tomatoes break down and onions are translucent about 10 minutes.
Stir in spinach and fenugreek, cream, paneer cubes, and salt to taste.
Cover and cook for 15 minutes, stirring occasionally.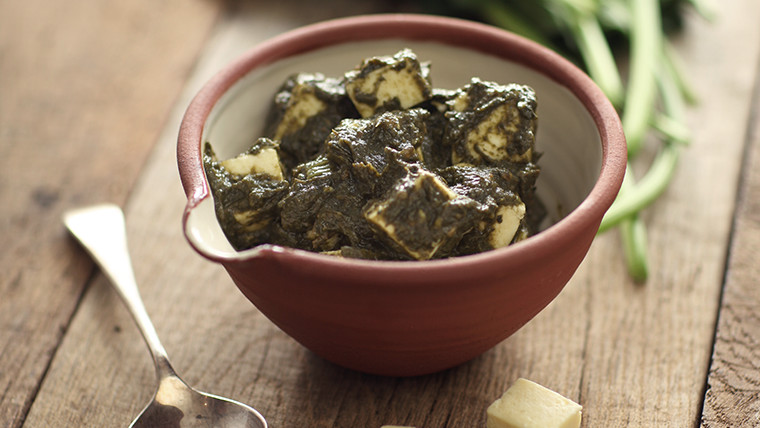 Serve hot with Lachcha Parantha 🙂
Happy Winters!