Holi 2019: DIY Guide To Prepare Natural Colors
Festival of Colors, Holi is around the corner and it is vibrant and filled with beautiful colors.
It's time to start the celebrations by getting all the basics ready at home. And the first thing on the list is, of course, Holi colours. While there are numerous stores in your neighbourhood from where you can pick up the colours from, they are definitely not safe for your health.
You can go the natural way and make colours at home with easily available kitchen ingredients. Yes, it's true!
DIY: Here are methods on how to make natural Holi colours at home:
Herbal Gulal
Holi is also the time for family bonding, and this is the perfect activity for all family members.
Method:
To make gulal by renowned beauty expert Suparna Trikha:
Take 200gm arrowroot powder
100gm haldi
50gm marigold flowers
20gm orange peel powder (finely powdered)
20 drops essential oil of lemon or sandalwood.
Put all the ingredients into a large plastic mixing bowl or tub and hand mix, rubbing together gently. You will see a beautiful yellow coloured, safe and natural gulal being made.
Herbal Water Colour
For those of you who would like to play a wet Holi, buy Tesu flowers and soak about 100gm in a bucket of water overnight to get the beautiful saffron colour. You can have the children fill balloons or their water cannons with this safe natural coloured water.
Shades of Pink
For magenta or shades of pink, beetroot is an excellent agent.
Method:
Boil a few pieces of beetroot in a cup of water to create dark magenta coloured water. Or you can also keep pieces in the water and let it rest for a few hours for the colour to develop.
For dry powder, grind beetroot to make a paste and let it dry in the sun. Mix with besan or wheat flour and use. Hibiscus flower is another good option.
Dry Powders with Food Colours
Method:
Take rice flour, add proportionate food colour and mix it with two teaspoons of water to make a thick paste. Leave it to dry and then blend it in a grinder to use it as a powdered colour.
Saffron Tinge
It's easy to make saffron, orange or yellow natural Holi colours.
Method:
For powder, take besan and mix it with some haldi along with a little water. Then leave it in the sun to dry. For water colours, soak henna leaves in water overnight and use the water to play Holi in the morning. You can also use henna paste.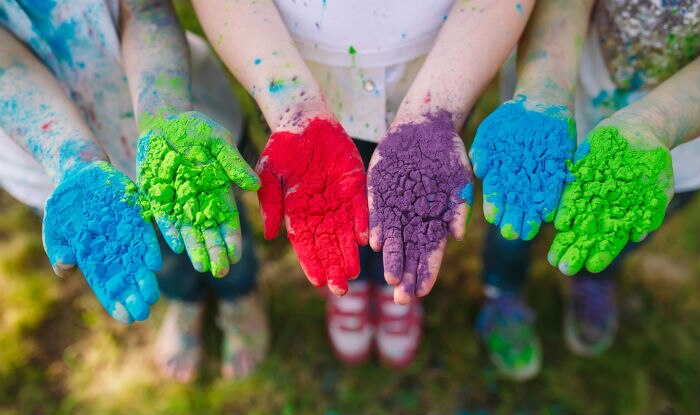 Go Green
Yes, you are thinking right. You can use various green leafy vegetable to get the green colour. Spinach is a popular choice and so is coriander leaves.
Method:
Prepare a green powder by putting spinach, mint and neem leaves in hot water and let it stay for some time. You can also make dry green colour by grinding dried leaves of spinach, mint and neem leaves.