Decorate Your Home On Christmas: Here's How
With Christmas around the corner, everyone is prepping up for the Christmas decorations. While living rooms can be decorated with a variety of items, the other rooms of the house too, need to be decorated with the same vigor and enthusiasm. So, here's an idea book that focuses on affordable and inexpensive ways of decorating your home in unusual styles and trendy patterns.

Get every inch of your house into the holiday spirit with these creative ways to deck the halls. Whether you prefer traditional decor or something a bit more out there, we guarantee you'll find something on this list.
Use A Ladder
Instead of opening a flimsy cardboard box, hang up a DIY Advent calendar on a ladder or the tree. Decorated muslin craft bags conceal treats, toys, and messages from Santa—and you can fill them again next year, too.
String Up Bells
Banisters can be tricky to decorate. For a light, airy, and cheerful look, try stringing red and white paper bells together with fishing line.
Stock The Bar
Bar carts are the one design element that still need to be functional, so make sure all of your merry-making essentials fit. Accessorize with greenery and glassware.
Play With Pattern
You don't have to limit yourself to matching the ribbon to the paper. Put polka dots and checks on a flowery filigree, like this one.
Incorporate Yellow
Dreaming of summer when it's too cold to deal outside? Add all the sunny feels to your table with yellow accents and fresh citrus.
Get Lit
Instead of a garland, dress up a mantel with a mix of candlesticks — tall, small, mercury glass, crystal. Instead of ivory candles, opt for red, cranberry, and shades of green.
Decorate With Sweets
This evergreen is covered entirely with edible decorations, like cookies, ribbon candy, gumdrops, and garlands of popcorn and cranberries.
Try On Some Tassels
Hang red and green tassels on your doors, desk, and chest of drawers. They're a finishing touch that's totally budget-friendly.
Choose Colorful Gift Wrap
What's under your tree counts just as much as what's on it. For a classic, American theme, choose red, white, and blue paper and bows.
The More Color, The Merrier
Embrace it — pastels are happening for Christmas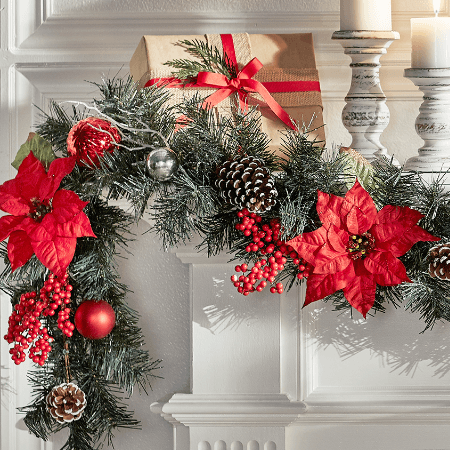 Make A Garland Out Of Pine
All you need is wire, floral string, and pine to create this minimal holiday arrangement.